2018 Open Day Precision Agriculture Practice Center
5 september 2018
Postelsedijk 15, Reusel, Netherlands.
(at VanDenBornePotatoes location)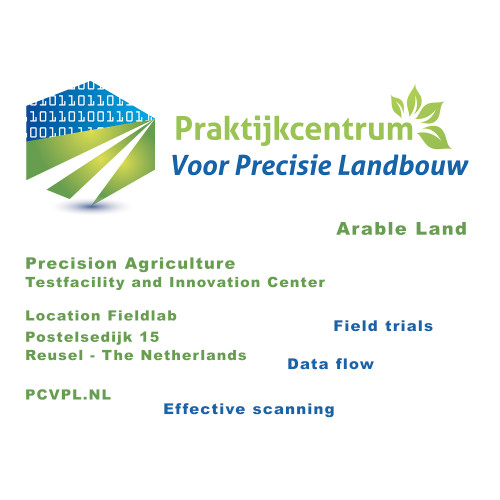 One year in the making, time for an Open Day
As a practice center we exist one year and various suppliers have received positive field trial data research results in a manner they can explain their innovations better to possible clients.
It is time to gather anybody over the last 10 years active and interested in precision farming. For this we are currently organizing our first Precision AG Open Day on 5 september from 9 AM -16 PM.
What we offer;
1. A free stand, indicate how many m2 you need in the hall.
2. Possibility of demonstration on the land next to our company.
Agenda Open Day 5 september 2018

07.00-08.45 BUILD UP: Furnish stands, bring your own power extention to plug into the distribution point. Both low and high voltage current present. 4 september build up is possible.
09.00: OPEN FOR VISITORS

- TECHNOLOGY HALL (all day from 9 am to 4 pm for everyone)
The warehouses will be transformed into a true technology hall where technology companies that have something to offer in the field of precision agriculture will receive a free stand and have the opportunity to demonstrate their innovation.

- WALKING ROUTE for everyone
Various components with regard to sustainability can be visited on the company site.

- NEW PRESENTATION, WORKSHOP, TRAINING SPACE
Made possible with a contribution from OPZuid Living Lab for Precision Farming. During the day sometimes in use.

10.00-10.30 VISION PRESENTATION for everyone
A vision of the future at the Practice Center for Precision Agriculture by Jacob van den Borne.
11.30 DEMONSTRATION BLOCK on the field for everyone
In the field various technological highlights are demonstrated to the public.

12.00-13.00 LUNCH (Fries with a snack of your choice)

Continuously possible to visit technology hall, do walking route, get acquainted, discuss with a cup of coffee or refreshers.
14.30 OPEN SOURCE and DATA
In the last 5 years, a lot of experimenting has been done in, among other things, hackathons with existing software, open source possibilities, sensors and hardware. Where are the grassroots opportunities in Arable Land?

15.30 DEMONSTRATION BLOCK on the field

16.00 Closing Open Day

………………………………………………………..

Background Precision Ag Practice Center
Over the last 10 years, at VanDenBornePotatoes we have experimented and invested a lot in Precision Farming, Smart Farming. We are a frontrunner for 10 years in the adoption off precision farming. In this 10 years we build trust around Van Den Borne for other growers and suppliers.

In order to facilitate the growing demand to learn about precision farming by growers and suppliers who want to collaborate on next generation agri products, Jacob has initiated on his firm the development off a precision farming practice centre.

The founding is in collaboration with the Technical University off Eindhoven (On High Tech and Software), Wageningen University and Research (Growth Models, Software and High Tech), the ZLTO (Growers Association) and the HAS University off applied sciences (Tomorrows data driven farmers, starters and employees off suppliers).

The goal off the Practice Centre :

Maximum possible data driven monitoring off crop growth development in various circumstances and stress tests off high tech agro food innovations in, over and above arable land.

Suppliers innovate, growers wonder.

Only proof off the pudding will accelerate data driven farming and sales.

We facilitate :
Field Trials, Controlled Traffic Farming, Scanning, Application, Data gathering, drone durability tests.

New agriculture solutions have great prospects but we all want trustworthy field trial results. Just like in medicine, the future is evidence based farming innovations.

We hope to meet you on September 5th !

Jacob van den Borne (General Director)