PRECISION SUPPLIERS : MORE INFO AND SIGN UP AS AN EXHIBITOR
More than 50 precision suppliers gather for the 3rd time! Precisely on the Belgium-Dutch border. More than 600 daily visits, coming for precision solutions because they read about it, want to ask about it and talk about precision.

Curious about the latest and latest developments in precision agriculture? Discover numerous machines, robots and technologies during these days.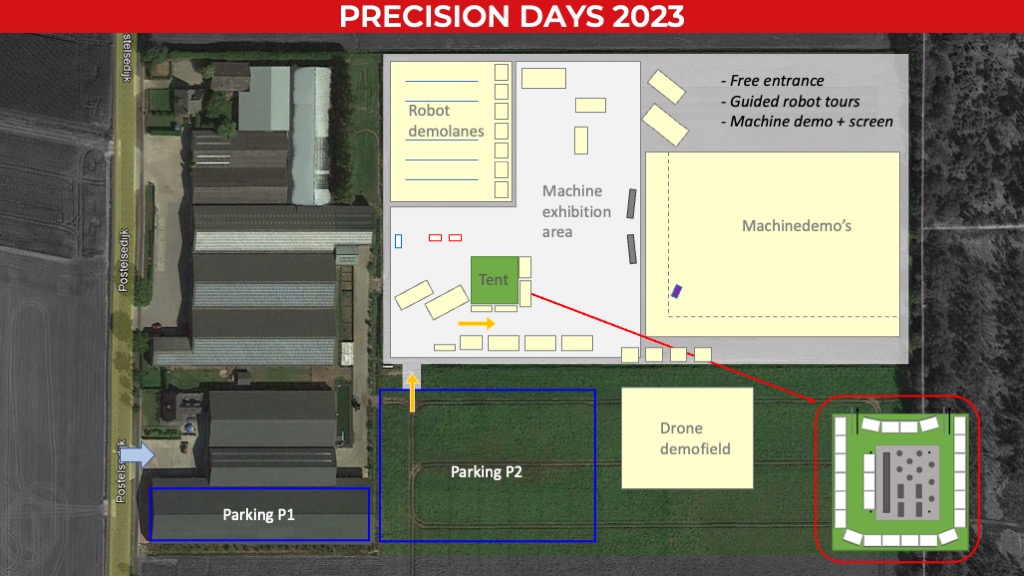 Third edition of the Precision Days (Precision agricultural days) on the Van Den Borne Potatoes site in Reusel from August 24 to August 26, 2023

Precision agriculture suppliers can choose from two options to interact with visitors.
Option 1 : Outdoor area for Robots, Agricultural machines and Drones
There are demo fields around the 'tent' area. Crops (with weeds) are sown for robots. Normally 10 meters wide per crop and at least 20 meters deep. Guided tours at least 2x per day. On the outside area we offer space for a stand with machines, robots and drones. At the bottom of the form, indicate how many square meters you want and which demo field you want to be near.
Option 2 : In tent for Sensors, Software and Startups
In addition to the demo areas, we have a tent in which we can accommodate about 25 stands. So this is covered. A stand is 3 meters wide and 2 meters deep as standard. This is perfect for sensor suppliers, software developers, schools, etc. Choose this option at the bottom of the form if you are.
Register :




PRECISION DAYS 2023
The public days are Friday August 25 and Saturday August 26, 2023.
We expect about 2000 visitors on these days. In addition to individual growers, there will also be more grower groups for demonstrations. We have a tent for innovations 'without wheels' such as sensors, weather stations and software and an outdoor area with three demo fields for machines, robots and drones. In the tent you have a maximum of 6 m2 and on the large outdoor area behind Van Den Borne Potatoes you usually get the m2 you wish to unpack and demonstrate.

Thursday, August 24, 2023 is for exhibitors among themselves and by invitation.
With Jacob van den Borne we then have a VIP program with tour(s) along developments and in the morning a knowledge and experience exchange session among exhibitors (with lunch). Why? Over the past 2 editions, we received feedback from various suppliers that it is very nice that everything i.r.t. precision agriculture is together for 2 days, but that they actually also want to visit each other as an exhibitor for an afternoon or morning and catch up.
First edition 2018 photo gallery



Second edition 2021 aftermovie


FARMING THE FUTURE TOGETHER!
Jacob van den Borne, team & partners